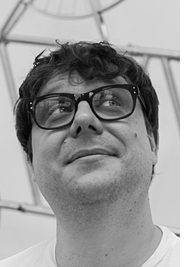 Anna Sandströms gata 22
12952 Hägersten

ehnsio@gmail.com

+46-(0)704032957
Hi!
My name is Rikard Ehnsiö and Sans Serif is my translating bureau. Here I mostly translate academic texts, but also other styles.

I did my BA/MA at Uppsala University and my PhD at the School of Oriental and African Studies (University of London). So, you could say that I am just as comfortable using academic English as its Swedish counterpart.

History is "my thing," but over the years I have also come into contact with most subjects within the humanities and the social sciences. But, as already mentioned, I can also work with more general texts in both Swedish and English.

As a translator, I am very careful and I put of lot of effort into making sure that the translated text keeps as much as possible of the original's style and feel. I always keep my deadlines.

I am a member of both Översättarecentrum and Sveriges Facköversättarförening (SFÖ), which are Swedish professional associations for translators.

Last, but not least, I would also say that I am a generally easy-going person – both professionally and in private – and all in all a pretty nice guy.